Issue
While editing .docx file in Google Docs, the user with .docx file opened in Microsoft Word for Mac is prompted to "Get latest" or "Compare Versions" which should reload the latest version of the doc or compare versions, but Drive File Stream gives this error: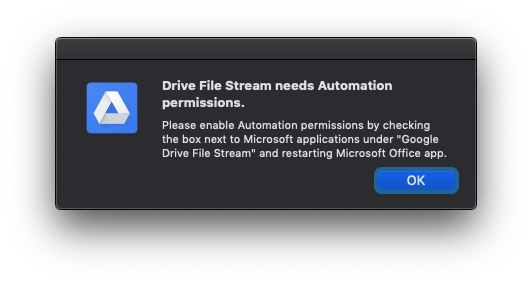 "Drive File Stream needs Automation permissions.
Please enable Automation permissions by checking the box next to Microsoft applications under Google Drive File Stream and restarting Microsoft Office app."
Automatically System Preferences > Security & Privacy is displayed but Google Drive File Stream isn't shown in Automation preferences.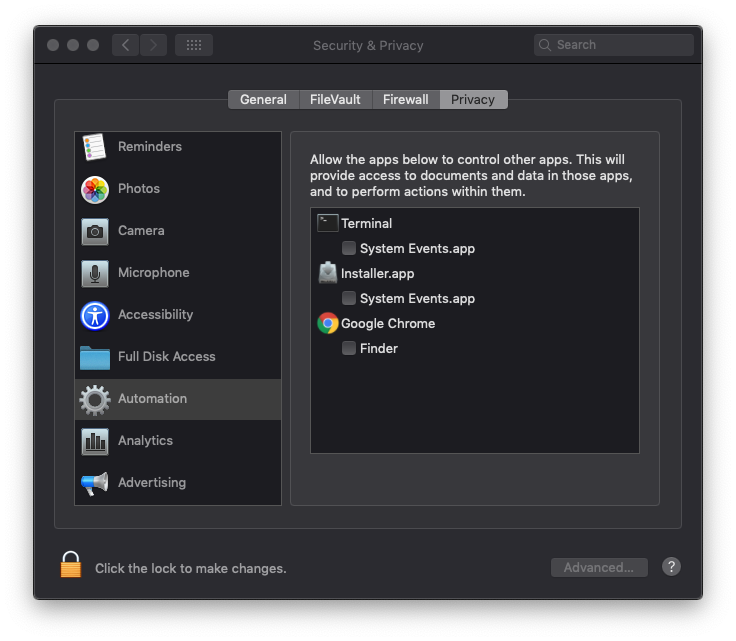 Workaround
We only have a workaround at this stage and that is close and re-open the document. You can save the Word file which create another version in Google Docs.
Bit messy but will update with a resolution as soon I learn of it.
If you know of better fix, let us know in the comments below!

Observed in:

Google Drive File Stream Version 32.0.8.0

Word versions 16.23 (190309), 16.26 (19060901)
macOS 10.14.5
Updated Word to 16.26 didn't resolve this issue and Office apps are still missing from System Preferences > Security & Privacy > Privacy > Automation
More Screenshots
Google Drive File Stream appears to do these overlays on Microsoft Office for Mac applications.